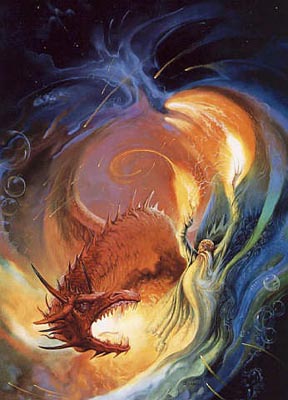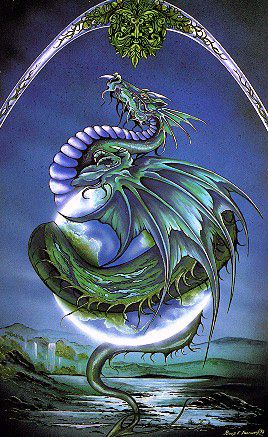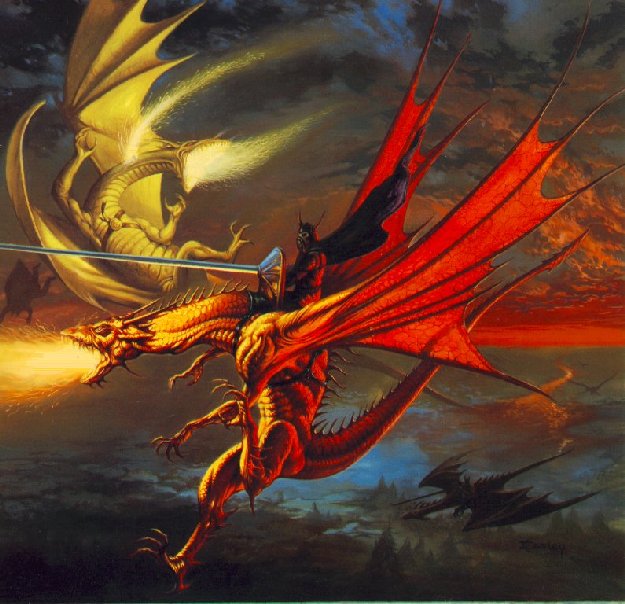 Field of Honor
Fierce of fire, are these creatures, fly by Knights.
Hunted hunters, soar like eagles, go to flight.

Days of darkness, eyes of onyx, light the nights.
Angry giants, seek redemption, causing strife.

Ageless legends, wings of gold, fill the sky.
Hearts ablaze, full of fury, a shrieking cry.

Sight of terror, breath of hell, an endless tide.
Once friends, now foes, no place to hide.

In the evening, with endless cover, pitch of black.
Fire blazing, life is hanging, friendship lacks.

Steel is forged, no room for error, precision counts.
Hearts apounding, courage raging, when to pounce.

Over head, with death descending, repent and rite.
Piercing screams, hollow echoes, hallowed lights.




Hero mounted, sword drawn, time to fight.
Claws extended, the taste of blood, a fallen knight.

Doubts arising, fears growing, cries of pain.
Armor clashing, spears thrown, a dragonís bane.

A starless night, a grassy plain, painted blood red.
Man of courage, Beast of honor, none yet dead.

Exhaustion wails, spirits fall, sweat like rain.
Tail strikes forward, teeth are smashing, muscles strain.

Arms of lead, wounds wide open, sensing death.
Who will conquer, life is wasting, nothing left.

Sword hangs loosely, loss of fight, scales abound.
Endurance calling, daybreak near, now not a sound.

Distant waterfalls, calmness reigns, wind swept flowers
Swords lie broken, blood in pools, no one towers.

Silent echoes, shattered dreams, not one survives.
Dawn awakens, battle ended, wasted lives.




Copyright 1998&copy L. Langman (IrishKnight) And E. Sturdivant (Divanta)
All Rights Reserved.