On The Wings of Pegasi, We Fly...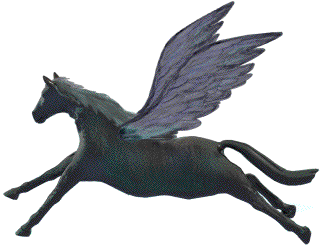 &copy artist unknown
"He goes by the name of Pegasus,
He has himself wings to fly;
He eats and drinks in the Bad Lands,
And ranges around in the sky."
----from The Flyin' Outlaw
by Curley Fletcher



&copy Kylie InGold


&copy artist unknown


Conjuring Pegasus
Moonlight glints off curve of crystal sphere,
Nigh silent footsteps scarce disturb the night,
The hush of night dark robes on autumn's leaves,
The flash of silvery hair in soft star's light.

An ageless face, made clear by moonlight pale,
Through spells and blood untouched by years of care.
But toils the heart knows too well to forget
Are mirrored out, through that pale, probing stare.

A clearing wide, all ringed by sylvan woods,
Where moon and starlight fall a silver veil,
Where windless night each blade of grass, and leaf
May edge with lace of night-frost, chill and pale.

A flickered motion, whispered words of power,
The autumn wind, all howling, singing chill,
Arises from the stillness of the clearing,
To shake from leaf and blade their icy frill.

A silver staff, atopped by crystal sphere,
Which glows with alien fire, all liquid flame.
Held aloft in one strong hand it summons.
The winds respond as each is called by name.

And 'cross the full moon's light there flies a shadow,
Of living silver, winged majesty
Summoned from the winds who gave it birth,
And taught it how to fly, like them so free.

And so on autumn nights in woodland clearings,
When winds are not awake to stir the dust,
When frost and starlight silver trim the forest,
An Elvenmage may conjure Pegasus.

Used with Permission. &copy Ri-ality 2001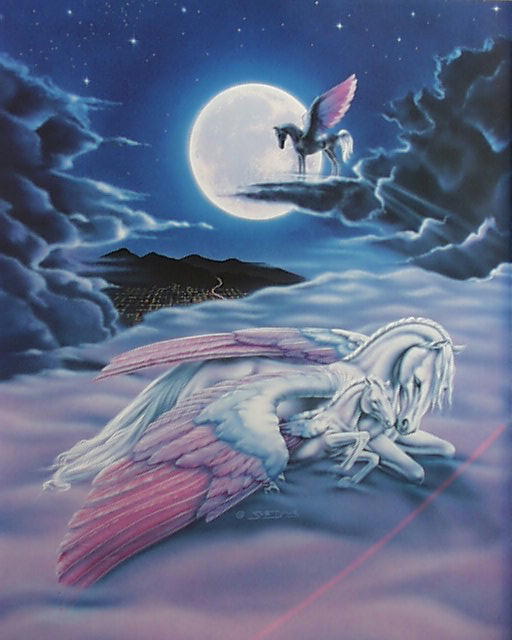 &copy Sue Dawe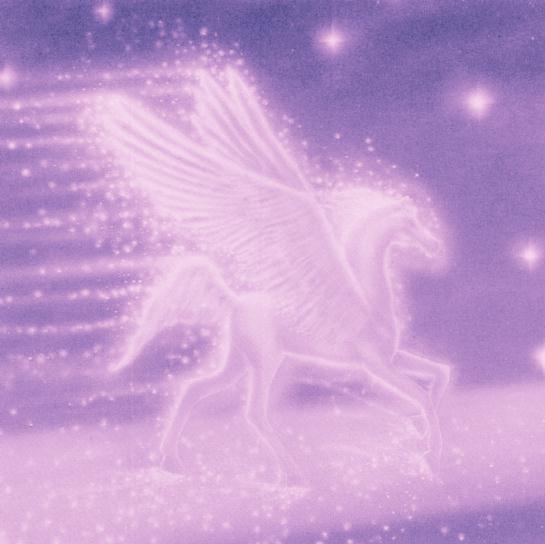 &copy artist unknown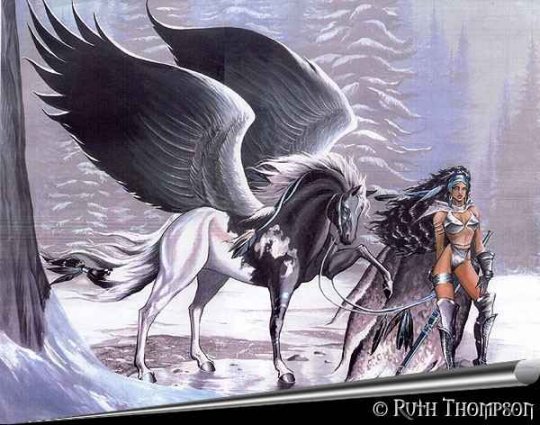 © Ruth Thompson. All rights reserved! Read the legal information.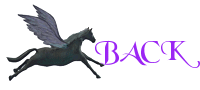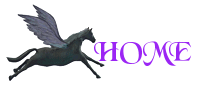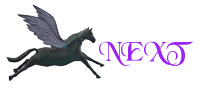 SO MANY VISIT BUT SO FEW SIGN
PLEASE SIGN MY GUESTBBOOK!


View My Guestbook

Sign My Guestbook